Carlos Ruiz Zafón was a Spanish novelist best known for his 2001 novel The Shadow of the Wind, the most successful novel in Spanish publishing history after Don Quixote.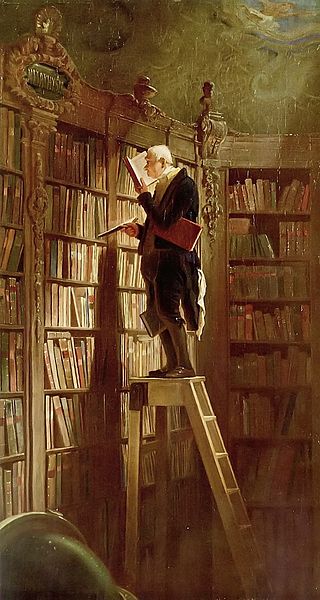 The novel starts with the sentence:
"I still remember the day my father took me to the Cemetery of Forgotten Books for the first time."
That first sentence is reminiscent of the first sentence of Marquez's novel One Hundred Years of Solitude (1967):
"Many years later, as he faced the firing squad, Colonel Aureliano Buendía was to remember that distant afternoon when his father took him to discover ice."
Once the boy is taken to this library with his father, this is what he sees, a library which has been compared to The Library of Babel (1941) by Jorge Luis Borges:
"The man called Isaac nodded and invited us in. A blue-tinted gloom obscured the sinuous contours of a marble staircase and a gallery of frescoes peopled with angels and fabulous creatures. We followed our host through a palatial corridor and arrived at a sprawling round hall, a virtual basilica of shadows spiraling up under a high glass dome, its dimness pierced by shafts of light that stabbed from above. A labyrinth of passageways and crammed bookshelves rose from base to pinnacle like a beehive woven with tunnels, steps, platforms, and bridges that presaged an immense library of seemingly impossible geometry. I looked at my father, stunned. He smiled at me and winked.

"Welcome to the Cemetery of Forgotten Books, Daniel."
When you read the obituaries of Zafón, you read a lot about frustration of being a bestseller author lacking critical acclaim.