Hilary Mantel was een Brits auteur die de laatste jaren vooral in de aandacht kwam omwille van haar historische fictiewerken die zowel door publiek als kritiek geprezen werden.
In mijn universum is ze van belang omdat ze Giulio Camillo uit de kast haalde en onder de aandacht haar lezers bracht.
Giulio Camillo – Mantel noemt hem Guido – ontwierp een geheugenmachine, een method of loci, een geheugenplaatsmethode, een fysiek theatertje bestaande uit schuifjes waarin stukjes informatie geborgen zitten.
"Ik herinner me, zegt hij, ik herinner me Calais, de alchemisten, de geheugenmachine. 'Guido Camillo bouwt hem voor François, zodat geen koning ter wereld wijzer is dan hij, maar de sukkel zal hem nooit leren gebruiken."
Zo staat het in haar roman Wolf Hall (2009).
Elke vernoeming van Camillo zal uiteindelijk en onvermijdelijk naar het onovertroffen boek van Frances Yates uit 1965 leiden dat de titel draagt The Art of Memory, het standaardwerk over de geschiedenis van de kunst van het onthouden.
Voor uw amusement geef ik u een gravure uit Utriusque, een boek van Robert Fludd dat Yates in haar The Art of Memory vermeldt.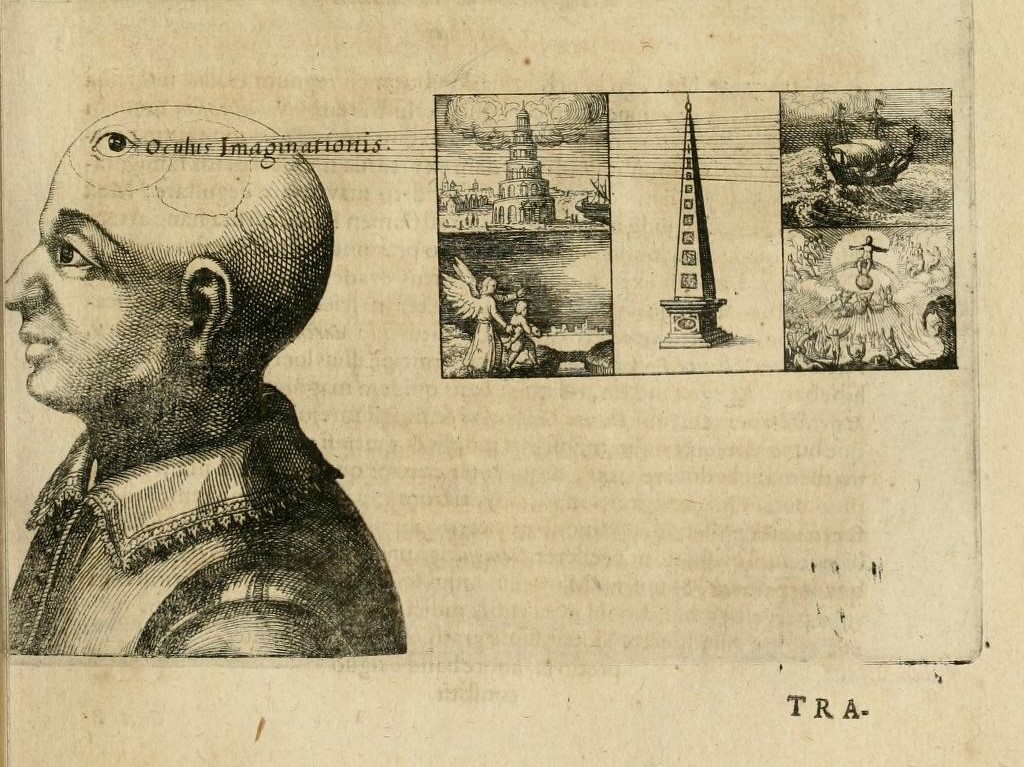 Het toont een man in zijaanzicht. Vanuit zijn oog der verbeelding, zijn oculus imaginationis straalt een aantal lijnen die wijzen naar vijf beelden, waaronder een obelisk.
Hij begrijpt de kunst van het onthouden.
U vraagt zich af of iemand die beeldverwijzingen, al die dingen die die man probeert te onthouden, al in kaart heeft gebracht?
Ja hoor, Yates deed het in haar boek dat ik net vermeldde:
"We see a man with a large 'eye of imagination' in the fore part of his head; and beside him live memory loci containing memory images. Five is Fludd's favourite number for a group of memory places, as will appear later, and the diagram also illustrates his principle of having one main image in a memory room. The main image is an obelisk; the others are the Tower of Babel, Tobias and the Angel, a ship, and the Last Judgment with the damned entering the mouth of Hell—an interesting relic in this very late Renaissance system of the mediaeval virtue of remembering Hell by the artificial memory."
En dat, dames en heren, laat ik even onvertaald omdat ik mij alweer moet haasten naar de volgende dode.
RIP Hilary Mantel.