It's funny on how returning to the blogosphere after saying goodbye to it for quite some years, I bump straight into an old virtual friend when searching for "Hypnerotomachia Poliphili + Bomarzo + elephant". The friend in question runs the fascinating culture blog Journey to Perplexity.
The reason I googled the words above was that my Dutch edition (translated by Ike Cialona) of Hypnerotomachia Poliphili claims that Colonna' work inspired these works of architecture:
Grotta di Buontalenti by Bernardo Buontalenti and Giambologna's famous Bathing Venus in the Boboli Gardens
Ercole Ferrata's Elephant and Obelisk
Giovanni Battista Vaccarini's u Liotru
Gigantomachia fresco by Giulo Romano
Santa Maria della Salute by Baldassarre Longhena
Park of the Monsters at Bomarzo
One thing leading to another, as they usually do, I found this [2] fascinating woodcut, of which the colour palette reminds me of Japanese woodcuts.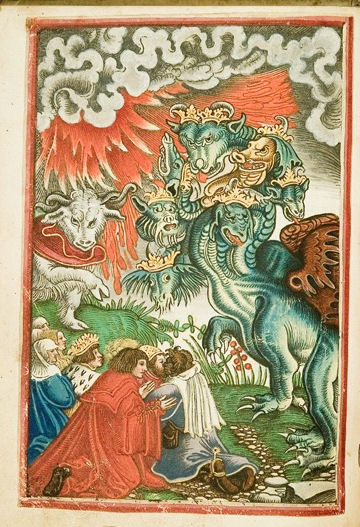 I wonder if the plate is part of Cranach's illustrated version of Martin Luther's translation of the Bible? Anyone?