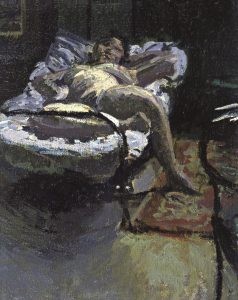 In the history of 20th century erotica, Walter Sickert kicks off the era with a series of oils known as the The Camden Town Nudes.
Nuit dété (Summer Night) [above] is one of them. Sickert's erotica is exemplary of the cult of ugliness. Nevertheless, I like his nudes better than Lucian Freud's, which belong to the same 'cult of ugliness' category. Of note is also that Sickert wrote of eroticism in the visual arts in writings such as "The Naked and the Nude".
I say "writings", but I'm not sure he did more writing on the nude than this one.